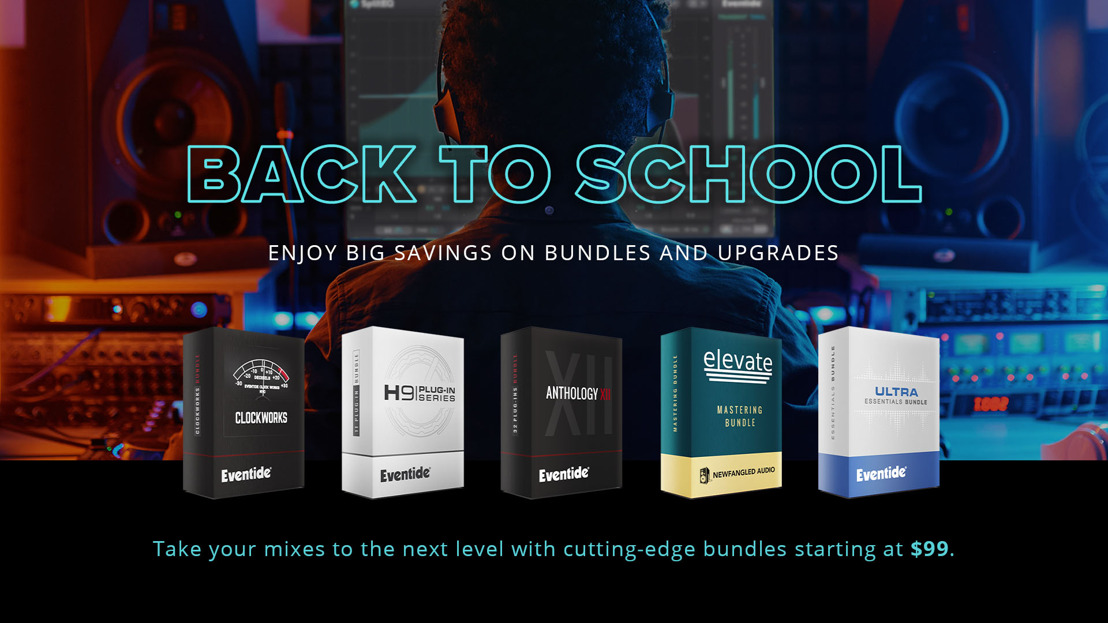 Eventide Announces Back to School Sale on Plug-In Bundles
Massive savings on Anthology XII, Clockworks, H9 Plug-in Series, and more – perfect for the next generation of musicians and producers
LITTLE FERRY, NJ, August 1, 2023 — Eventide Audio announces the start of its Back to School Sale, which offers students and educators massive savings on its signature Plug-In Bundles, including Anthology XII, H9 Plug-in Series, Clockworks, Elevate, and Ultra Essentials – all crucial and inspiring tools for the aspiring musician or producer. The sale begins today and will run through Labor Day, September 4, 2023. All bundles are also available directly through Eventide's Academic Program at an additional discount with confirmation of enrollment and a valid iLok.com account. For more information and to purchase, please click here.
A treasure trove of sonic tools
​Eventide's Plug-in Bundles bring together some of the most innovative and exciting production tools available in one easy-to-access place. These include the flagship Anthology XII collection, the H9 Plugin-Series, which compiles the iconic collection of effects from Eventide's H9 pedal series, the authentic recreations of Eventide's legendary rack units in Clockworks, the advanced mastering tools of Elevate, and the streamlined production tools in Ultra Essentials. Sale pricing is listed below.
All Eventide plug-ins are supported by Mac & PC in AAX, VST, and AU formats.
For more information about Eventide's plug-in bundles and access to the Back to School Sale, please visit: https://www.eventideaudio.com/
About Eventide
​Since 1971, Eventide has remained at the forefront of recording technology. In 1975 they revolutionized the audio industry by creating the world's first commercially available digital audio effects unit, the H910 Harmonizer®. Since then, their legendary studio processors, effects pedals, and plug-ins have been heard on countless hit records.
Eventide is a registered trademark of Eventide Inc. © 2023 Eventide Inc.

Jeff Touzeau Hummingbird Media, Inc.